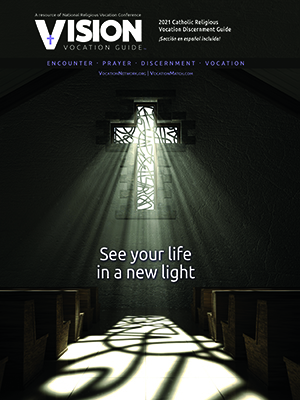 A GREAT ILLUMINATOR
RECENTLY I LEARNED of the death of my favorite high-school teacher, Brother Mark McVann, F.S.C., a De La Salle Christian Brother. Though his death was unrelated to the COVID-19 pandemic, it came during a time of great loss and seemed all the more tragic and heartbreaking. As I read tributes to him posted on social media, I realized that not only did he touch the lives of hundreds of students at my school but many hundreds more in other schools following his explosion onto the scene in my sleepy suburb as a newly minted brother.
None of us had ever met anyone like him—this dynamic force, who swept the halls in his flowing habit and distinctive starched collar. He was off-the-charts creative, dramatic, and passionate with a biting humor, gorgeous voice, and giant brain.He refused to let any of us be mediocre. He practically willed us to push, stretch, and strain to do better. To be better. To see our lives in a new light.
That is what people who truly care—who truly love you—do. They make the effort to help you see your worth and potential. They take the risk to admonish and cajole. Or in Brother Mark's case to scream, "This. Is. Wretched!" following a lackluster rehearsal from a musical cast he knew could sparkle.
We all need such world-shaking illuminators in our lives, starting with Jesus, the Light of the World, who shows us the way to our true selves. As you embark on your vocation journey, take a moment to read the stories in the pages of VISION 2021 of men and women who have gone before you. Who know what it is like to change course and refocus. Who break barriers and cross borders for the sake of the gospel. Who choose to see their lives in a new light—as sisters and brothers to all.
—Patrice J. Tuohy, VISION Publisher
In the current issue:
Find much, much more in VISION 2021!